BRUSSELS, April 8 – RIA Novosti. The head of the European Council, Charles Michel, regrets that the incident with the placement of chairs at the talks in Ankara overshadowed the most important visit for the European Union to Turkey.
On Tuesday, Michel and the head of the European Commission, Ursula von der Leyen, were on a visit to Turkey, where they held talks with Turkish President Tayyip Erdogan. The footage of this meeting published on the network shows that the organizers provided only two chairs for the negotiators against the background of the flags of the European Union and Turkey. Chairs were occupied by Erdogan and Michel, Von der Leyen had to sit on a sofa away from them opposite the Turkish Foreign Minister Mevlut Cavusoglu. "Despite the desire to do everything right, the strict interpretation of the rules of the protocol by the Turkish services led to a regrettable situation," Michel wrote in Facebook.
He believes that a "protocol oversight" was made in relation to the head of the European Commission, which could look like a belittling of importance. However, according to him, it was decided not to aggravate the situation, but to continue political debates with the Turkish side.
"I am saddened that this situation has overshadowed the enormous geopolitical work that we have done together in Ankara, and the fruits of which, I hope, Europe will reap," said the head of the European Council.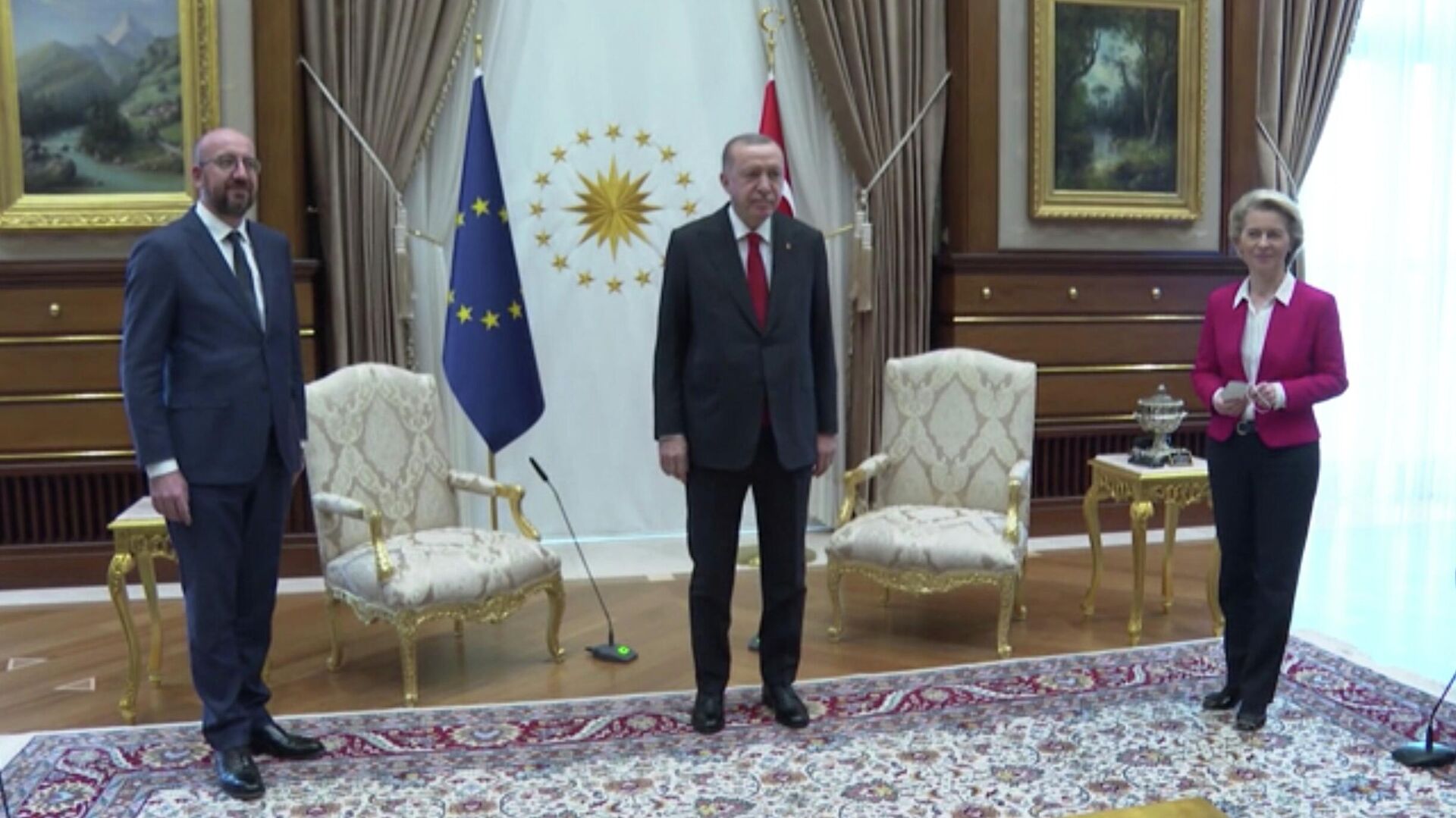 He added that women's rights were discussed at the talks with Erdogan, as well as at other meetings in Ankara. The head of the Council also stressed that he is proud to work with women like Von der Leyen and Christine Lagarde, who heads the European Central Bank.
Earlier, a number of European politicians, including MEPs, criticized the incident in Ankara. The head of the European Council was also not spared, who, according to some deputies, should have taken care of a dignified attitude towards Von der Leyen.
European Commission spokesman Eric Mamer said on Wednesday that the head of the European Commission has already instructed her team to take the necessary measures to avoid such situations in future international visits. According to Mamer, the European Commission's protocol service did not take part in the trip this time due to coronavirus-related restrictions.
He explained that von der Leyen was surprised by the situation with the chairs, but preferred to "pay attention to the heart of the matter, not the protocol." Mamer said that the press service of the EC cannot judge the reasons why Von der Leyen was offered this or that place, "this should be asked from the host side."
Mamer also pointed out that "this incident did not affect the negotiations, the head of the EC was able to discuss all the planned issues."